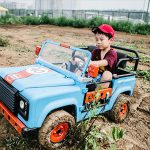 Motorcycles droned; mud splashed. After days of rain, the air was filled with a fresh, earthy smell.
People shouted and cheered as cars and motorcycles, ranging from professional cross-country motorcycles to retro Scramblers and Flat Trackers, raced past them in the dirt track at Beijing's first Dirt Track Party of Ramp which was held from July 23 to 24 in Chaoyang district.
Inspired by the popularity of professional mud runs in Western countries, the event aims to offer an opportunity for automobile lovers and spectators to take part in motocross.
On such a hot summer day, the sweat brought on by the sweltering heat soaked through more than 60 riders' T-shirts. As the thick tires trenched through the track and splattered mud, riders were covered from head to toe, but there is still joy and satisfaction on their faces as they participated in round after round of the event.
It was a spectacle for patrons [...]